Musculo-Skeletal Ultrasound
Most injury or disease causes a soft tissue lesion that can affect your health and overall well-being.  MSK ultrasound is the best way to identify a soft tissue anomaly.  It is a safe and painless way to examine the body for injuries and/or disease.
The ultrasound machine sends harmless sound waves into the suspected area.  They reflect back to the machine to produce an image of the anatomical body you are examining.  Our Board-certified Radiologist can then diagnose any changes to the area caused by the lesion.
It is an excellent addition to the Spinal Ultrasound.
"The wide availability and recent improvement in technology coupled with portability, low cost, and safety make ultrasound the first-choice imaging investigation for the evaluation of musculoskeletal diseases." 
- National Library of Medicine. Role of diagnostic ultrasound in the assessment of musculoskeletal diseases-Pravin Patil and Bhaskar Dasgupta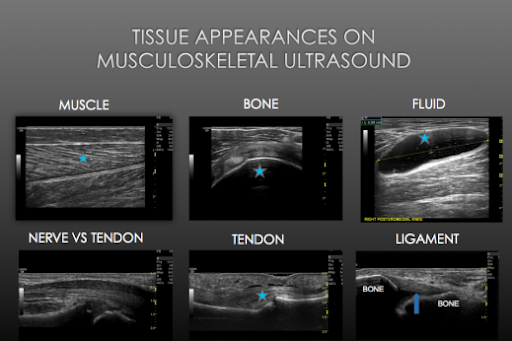 Pain, numbness, weakness, tender to touch, loss of range of motion in extremity and joint

Suspected tendonitis

Inflammation or swelling in the joint
Stretch injury, strain, sprain 

Arthritis

Rotator cuff tears
Carpal Tunnel injury

Bursitis

Cubital Tunnel injury
Quick and accurate without discomfort to the patient.

Able to get objective images of most joints and soft tissue in the body

Test performed without radiation or side effects